Some of Our Recent Events -
Friday, October 1, 2021we enjoyed a Friday workshop
A Friday Workshop with Catherine Redford. "Walking Foot Quilting- Beyond the Ditch"And on Saturday, October 2, 10am - 12pm
Catherine Redford also joined us for a presentation at our Quarterly Meeting over Zoom. \
August 6th and 7th, 2021we welcomed Norene Skiles for a Friday lecture "Use It All" and for our Saturday Quarterly meeting where she talked about designing, ordering and using fabric from Spoonflower.com.
See more photos here...
On June 26, 2021 at hour Monthly Sew-in Pat Karasick gave a demo on making pillowcases.

Our May 28th Zoom Happy Hour!

Saturday, May 1, 2021
At Our Quarterly Meeting WQ we welcomed Trudy Cleveland on
"How to Shoot your Quilt".
And... the Quilters' Showcase is now online here

Friday, April 30, 2021 We enjoyed a lecture
fromInternationally known art quilter, teacher and humanitarian Hollis Chatelain whose presentation, was "Influences of Africa"

Saturday, March 6, 2021 Saturday, March 6, 2021
Saturday Workshop: "Quilt Coloring Fun" with Lauretta Crites
Convivial talk and beverages of choice at last Friday evenings' Happy Hour.
Click photo for a larger view.
Our first Zoom Holiday Tea on Saturday, December 5. We put on our hats and pearls and enjoyed some Holiday Cheer.
Click image for a larger view.

Our first day of our two part virtual Philanthropy Day "Giving For Thanksgiving!
See photos here...
Saturday, October 3, 2020 Lyric Kinard joined us over Zoom for her presentation "Elements Of Art For Every Quilter" See photos here...
Friday, October 2, 2020 we took a live virtual workshop
with Lyric Kinard.
"Bead It Like You Mean It" See photos here...
Saturday, September 26, 2020. Another live WQ Sew-in via Zoom. We had nother opportunity to just sew ( or knit or embroider or bind) together.
See photos here...
Friday, September 11, 2020 at 5:00PM we enjoyed lanother Happy Hour over Zoom.

On Saturday, September 5, 2020 Jane Haworth joined us for a Zoom Powerpoint presentation talking about her journey as a quilter, techniques that she uses and her desire to get other quilters into working out of their comfort zone and to play with fabric
Friday, August 28 at 5:00PM We grabbed our everage of choice and joined our Programs Chairs for an informal Happy Hour gathering. We are looking for input on programs for the coming months as we adapt to our new Zoom format.
Saturday, August 22, 2020 Another popular Zoom Sew-in for WQ Members. WE worked on our own projects as well as philanthropy blocks. Great to see so many of you!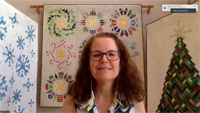 Saturday August 1 Tina Curran joined us over Zoom for our Quarterly Meeting to give us her PowerPoint presentation on "My Design Process - From Concept to Quilt".
See photos here...
Friday, July 31, 2020 online workshop with
Tina Curran. Tina returned to teach us her "California Poppies" pattern.
See photos here...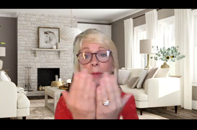 Saturday July 11 we enjoyed a virtual lecture on Zoom with well known Southern California quilter and teacher Jean Impey "Are You Crushing Your Cr-e-a-tiv-i-ty?"It included a trunk show and shared ways to boost your creativity including tools, technology and techniques.
See photos here...