Upcoming: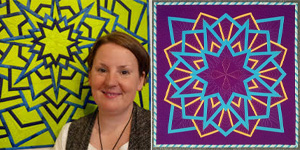 On Saturday April 6 modern quilter Mel Beach comes to teach her "Modern Mandalas". Add some Modern Zen to your quilting and join Mel as she unlocks the secrets to creating your very own modern mandala that will sparkle and shine! Now open for Registration!. All the info is on the Calendar page.
At our Saturday, May 18 quarterly meeting San Diego quilt artist Linda Anderson joins us for a presentation and trunk show.
You have seen her amazing pictorial quilts at Road to California,Houston and Pacific International Quilt Festival. Learn about her inspiration from travel and her varied techniques. Linda has a truly interesting story!
Please note new location information on the Calendar page.
For a complete listing of upcoming workshops and events now updated into early 2019 ,see our Calendar page.
Visitors are welcome at our General Meetings for a $10.00 fee.
Refunds of paid registration fees will be made only if the cancelled space can be filled. We will maintain a waiting list. If we cannot fill the space by our waiting list, you may designate a friend to take your place. Please notify the Program Chair of the name of any substitute. If a replacement for your space is not found, your registration fee will be forfeited.
Click below to view quilts by our members:
March 9, 2019 Quilters Showcase
October 12, 2018 Quilters Showcase
August 18, 2018 Quilters Showcase
May 12, 2018 Quilters Showcase
February 4, 2018 Quilters Showcase
October 21, 2017 Quilters Showcase
August 5, 2017 Quilters Showcase
May 13, 2017 Quilters Showcase
February 5, 2017 Quilters Showcase
October 22, 2016 Quilters Showcase
August 20, 2016 Quilters Showcase
May 14, 2016 Quilters Showcase
February 6, 2016 Quilters Showcase
October 17, 2015 Quilters Showcase
August 15, 2015 Quilters Showcase
May 2, 2015 Quilters Showcase
February 7, 2015 Quilters Showcase
October 18 , 2014 Quilters Showcase
August 16, 2014 Quilters Showcase
May 2, 2014 Quilters Showcase
February 8, 2014 Quilters Showcase
October 12 , 2013 Quilters Showcase
August 17 , 2013 Quilters Showcase
May 18, 2013 Quilters Showcase
February 9, 2013 Quilters Showcase
October 12, 2012 Quilters Showcase
August 11, 2012 Quilters Showcase
May 12, 2012 Quilters Showcase
February 11, 2012 Quilters Showcase
October 22, 2011 Quilters Showcase
August 13, 2011 Quilters Showcase
May 21, 2011 Quilters Showcase
February 12, 2011 Quilters Showcase
October 9, 2010 Quilters Showcase
Did you get to Road To California 2015 to see the Ontario Convention Center Atrium bedecked with 35 quilts from talented Westside Quilters Members? If not See photos here. ..
Westside Quilters is open to all traditional, contemporary and art quilters of any age, from beginner to expert. Lecture presentations, workshops and field trips are held throughout the year.
Our Mission:
A new kind of quilt guild organized for educational and charitable purposes; to promote cooperation and the exchange of ideas among quilters; to instruct members in methods and techniques of traditional and contemporary creative quilting; to serve mini-groups and their philanthropic endeavors within the community; to inspire personal achievement.
Note our new meeting location!
Westside Quilters meets quarterly on Saturday mornings at the Westchester Seniors Center, 8740 Lincoln Blvd., Angeles, CA 90045. Southeast corner of Lincoln and Manchester. Click here for map and directions.
Our 2018-19 brochure - Printable PDF
Check our Calendar page often for a complete schedule of lecturers and workshops through mid 2019.
Click here for ways that Quilters can help others through our philanthropy projects.
For questions or to join our mailing list e-mail to: Westsidequilters@yahoo.com
We're on Facebook and Pinterest


Click on the links below to access Amazon.com and iGive.com. When you purchase online through these links - books, electronics, almost anything - Westside Quilters will automatically receive a percentage at no cost to you. In addition, when you register with iGive.com, WQ receives a bonus!
Westside Quilters is a Member of
the Southern California Council of Quilt Guilds www.sccqq.org
Westside Quilters is tax-exempt from Federal income tax under section 501(c)(3) of the Internal Revenue Code, and classified as a public charity under section 170 of the Code, according to the determination letter dated May 26, 2011 received from the Internal Revenue Service. The effective date of exemption is June 17, 2010. Donations to Westside Quilters are fully tax-deductible for individuals and other entities such as corporations, partnerships, trusts; Westside Quilters also is qualified to accept tax deductible bequests and gifts or transfers of gifts.
Last Updated 3.19.19
Some of Our Recent Events -
March 8 and 9 award-winning Australian quilt artist, teacher and world traveler Jenny Bowker joined us for a special 2 day workshop sharing her "Shimmering Triangles" and for our Quarterly Meeting. See photos here...
Saturday, February 2 our workshop with SoCal fiber artist, quiltmaker, surface designer Libby Williamson brought a fresg take to "Paint-Stitch-Collage-Magic". See photos here...
Saturday, January 12th we met for our annual Sew-in bringing our own projects for a social day.
See photos here...
Saturday, December 8th Luann Jaffe welcomed us to her home for the annual WQ Holiday Tea. See photos here...
Saturday, November 10th was the annual WQ Philanthropy Day "Giving For Thanks-giving". Kid's quilts, receiving blankets, baby hats all headed to local charities. See photos here...

On Friday, October 12 Jenny Lyon presented her workshop "Intoduction to Free Motion Quilting". Our own Luann Jaffe was the first to sign her new book! See photos here...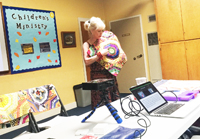 On September 15th the wonderful Jean impey taught us her Spiderweb Quilt. See photos here...
Agust 16-18th WQ enjoyed a wonderful 3 day visit from iconic art quilter Velda Newman. In her 2 day workshop students learned to create texture and form using machine techniques and alternative mediums such and paint, ink and colored pencil. At our Saturday meeting we enjoyed a presentation of her work and a couple of her enormous works in person! See photos here...
June 30th we enjoyed Sandra Bruce's "Material Matrix" workshop. Her work involves using a gridded photograph and interpreting each 2-inch square into fabric, using piecing to achieve the effect. See photos here...
May 11 and12 we welcomed Australian textile artist Lisa Walton who taught her creative "Stamp, Paint, Stitch" surface design workshop and spoke about her life as a "Textile Traveler" at our Saturday meeting. See photos here...
Saturday, April 21st 20 WQ members enjoyed They brought "Slow Sittching Saturday".They brought hand work - bindings, embroidery, Sashiko, knitting, crochet and a picnic lunch. Desserts were shared!
See photos here...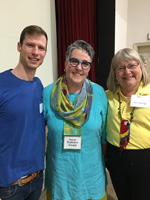 Friday and Saturday we welcomed quilt artist, teacher and host of Quilting Arts TV on PBS Susan Brubaker Knapp for a thread sketching workshop and her presentation at our Saturday meeting "The Artist in You" See photos here...