Saturday July 11, 11:00AM - Virtual lecture on Zoom with well known Southern California quilter and teacher Jean Impey "Are You Crushing Your Cr-e-a-tiv-i-ty?"Jean's new lecture is designed to pick up where her Passion lecture leaves off. It includes a trunk show and shares sway to boost your creativity that include tools, technology and techniques. This is open free of charge to all members. A link to the Zoom presentation will be emailed to all WQ members.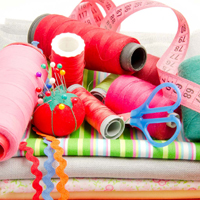 Saturday, July 25th there will be another WQ Member Sew-in via Zoom! 10AM-12:30PM. Let's just get together! Members will be mailed the Zoom link.
Friday, July 31, 2020 online workshop with
Tina Curran. Tina returns with her "California Poppies" pattern. Fabulous drought resistant paper pieced poppies to brighten your day year around. To register for this worlshop go to the Calendar Page
Tina will also join us over zoom for our first virtual quarterly meeting on Saturday August 1, 2020 at 10AM. Tina will lecture on "My Design Process - From Concept to Quilt". A link to the Zoom presentation will be emailed to all WQ members.
More programming to be announced soon!
For a complete listing of upcoming workshops and events now updated into 2020. see our Calendar page.
Visitors are welcome at our General Meetings for a $10.00 fee.
Refunds of paid registration fees will be made only if the cancelled space can be filled. We will maintain a waiting list. If we cannot fill the space by our waiting list, you may designate a friend to take your place. Please notify the Program Chair of the name of any substitute. If a replacement for your space is not found, your registration fee will be forfeited.
Click below to view quilts by our members:
May, 2020 Quilters Showcase - Quarantine Edition
February 1, 2020 Quilters Showcase
October 19, 2019 Quilters Showcase
August 10, 2019 Quilters Showcase
May 18, 2019 Quilters Showcase
March 9, 2019 Quilters Showcase
October 12, 2018 Quilters Showcase
August 18, 2018 Quilters Showcase
May 12, 2018 Quilters Showcase
February 4, 2018 Quilters Showcase
October 21, 2017 Quilters Showcase
August 5, 2017 Quilters Showcase
May 13, 2017 Quilters Showcase
February 5, 2017 Quilters Showcase
October 22, 2016 Quilters Showcase
August 20, 2016 Quilters Showcase
May 14, 2016 Quilters Showcase
February 6, 2016 Quilters Showcase
October 17, 2015 Quilters Showcase
August 15, 2015 Quilters Showcase
May 2, 2015 Quilters Showcase
February 7, 2015 Quilters Showcase
October 18 , 2014 Quilters Showcase
August 16, 2014 Quilters Showcase
May 2, 2014 Quilters Showcase
February 8, 2014 Quilters Showcase
October 12 , 2013 Quilters Showcase
August 17 , 2013 Quilters Showcase
May 18, 2013 Quilters Showcase
February 9, 2013 Quilters Showcase
October 12, 2012 Quilters Showcase
August 11, 2012 Quilters Showcase
May 12, 2012 Quilters Showcase
February 11, 2012 Quilters Showcase
October 22, 2011 Quilters Showcase
August 13, 2011 Quilters Showcase
May 21, 2011 Quilters Showcase
February 12, 2011 Quilters Showcase
October 9, 2010 Quilters Showcase
Did you get to Road To California 2015 to see the Ontario Convention Center Atrium bedecked with 35 quilts from talented Westside Quilters Members? If not See photos here. ..
Westside Quilters is open to all traditional, contemporary and art quilters of any age, from beginner to expert. Lecture presentations, workshops and field trips are held throughout the year.
Our Mission:
A new kind of quilt guild organized for educational and charitable purposes; to promote cooperation and the exchange of ideas among quilters; to instruct members in methods and techniques of traditional and contemporary creative quilting; to serve mini-groups and their philanthropic endeavors within the community; to inspire personal achievement.
For the time being, according to the Los Angeles County Board of Public Health and the directions of the CDC during the Covid-19 pandemic, our in person meetings and workshops are suspended. We continue to monitor the situation and in case of significant changes we will re-evaluate and let you know accordingly.
In the meantime, until we can all be together in person , we are planning some exciting virtual programs which will be announced very soon.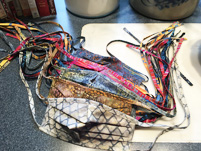 We would like to remind everyone to be responsible towards their own and others' health. Follow the hygiene and travel guidelines and remain vigilant to your wellbeing. Consult your healthcare provider immediately if you feel unwell. We'll get through this together.
It's time to renew your WQ Membership or join us if you are new.
Download the 2020-21 Membership Form
Note our new meeting location!
Westside Quilters meets quarterly on Saturday mornings at St. Andrews Lutheran Church, 11555 National Blvd., Los Angeles, CA 90064.
Click here for a map and directions.
Our workshops are held at various locations - see the Calendar page for specifics.

Our 2019-20 brochure - Printable PDF.
Check our Calendar page often for a complete schedule of lecturers and workshops through mid 2020.

Click here for ways that Quilters can help others through our philanthropy projects.
For questions or to join our mailing list e-mail to: Westsidequilters@yahoo.com
We're on Facebook and Pinterest


Click on the links below to access Amazon.com and iGive.com. When you purchase online through these links - books, electronics, almost anything - Westside Quilters will automatically receive a percentage at no cost to you. In addition, when you register with iGive.com, WQ receives a bonus!
Westside Quilters is a Member of
the Southern California Council of Quilt Guilds www.sccqq.org
Westside Quilters is tax-exempt from Federal income tax under section 501(c)(3) of the Internal Revenue Code, and classified as a public charity under section 170 of the Code, according to the determination letter dated May 26, 2011 received from the Internal Revenue Service. The effective date of exemption is June 17, 2010. Donations to Westside Quilters are fully tax-deductible for individuals and other entities such as corporations, partnerships, trusts; Westside Quilters also is qualified to accept tax deductible bequests and gifts or transfers of gifts.
Last Update 7.1.2020
Some of Our Recent Events -
Saturday, March 7 we enjoyed being in the classroom at Sewing Arts Center with Suzanne Cole for her "Hawaiian Applique" workshop.
See photos here...
Friday, January 31st -February 1st, 2020 a great two day visit from Mac Macnamara with a workshop on Friday and his trunk show as
our featured speaker at our Quarterly Meeting on February 1 See photos here...
January 4, 2020 Sew - In
See photos here...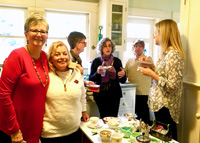 The Annual WQ Holiday Tea came up early this season on Saturday, December 7th. Always a great event!
See photos here...
Saturday, November 9th, we threw our annual WQ Philanthropy workshop "Giving For Thanksgiving". We cut, trimmed. sewed and layered kids' quilts to be distributed to charities around the city over the holidays. See photos here...
At our Quarterly Meeting on Saturday, October 19, 2019 improvizational quilter and teacher Cindy Grisdela spoke on "Playing With Colors" and we shopped the Annual Fabric Sale.
See photos here...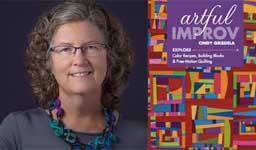 On Friday, October 18th Cindy Grisdela taught her "Artful Improv - Permission to Play workshop.
See photos here...
On September 7 we enjoyed a workshop with San Diego area quilter and teacher Mary Tabar. "Watercolor Strip Quilt". This lovely quilt is made from only three floral fabrics. Plus one border fabric. Students designed there own version of these strip stratas with great results!
See photos here...
On August 9th and 10th Internationally known art quilter and lecturer Esterita Austin (on the left) joined us for a Friday Workshop "Sheer Faces" and for our quarterly meeting where she gave her presentation "Cassic Rock"
See photos here...


On Friday, June 7th we welcomed Singer Featherweight restorer
, repair person, and collector Lloyd Askew who gave us a Featherweight Clinic where we learned the history and maintenance of these classic little workshorse machines.
See photos here...
San Diego quilt artist Linda Anderson joined us on May 18th for a presentation and trunk show. Her painted quilts are superb and she jas a most interesting story.
See photos here...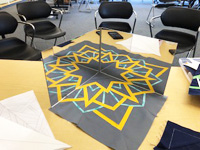 On Saturday April 6 modern quilter Mel Beach taught her "Modern Mandalas".
See photos here...
March 8 and 9 award-winning Australian quilt artist, teacher and world traveler Jenny Bowker joined us for a special 2 day workshop sharing her "Shimmering Triangles" and for our Quarterly Meeting. See photos here...
August 16-18th WQ enjoyed a wonderful 3 day
visit from iconic art quilter Velda Newman. In her 2 day workshop students learned to create texture and form using machine techniques and alternative mediums such and paint, ink and colored pencil. At our Saturday meeting we enjoyed a presentation of her work and a couple of her enormous works in person! See photos here...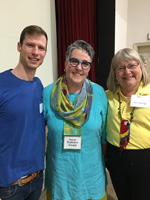 Friday and Saturday we welcomed quilt artist, teacher and host of Quilting Arts TV on PBS Susan Brubaker Knapp for a thread sketching workshop and her presentation at our Saturday meeting "The Artist in You" See photos here...