Some of Our Recent Events -
January 4, 2020 Sew - In
See photos here...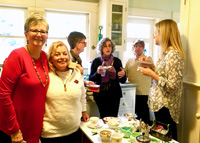 The Annual WQ Holiday Tea came up early this season on Saturday, December 7th. Always a great event!
See photos here...
Saturday, November 9th, we threw our annual WQ Philanthropy workshop "Giving For Thanksgiving". We cut, trimmed. sewed and layered kids' quilts to be distributed to charities around the city over the holidays. See photos here...
At our Quarterly Meeting on Saturday, October 19, 2019 improvizational quilter and teacher Cindy Grisdela spoke on "Playing With Colors" and we shopped the Annual Fabric Sale.
See photos here...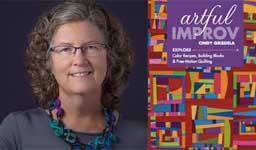 On Friday, October 18th Cindy Grisdela taught her "Artful Improv - Permission to Play workshop.
See photos here...
On September 7 we enjoyed a workshop with San Diego area quilter and teacher Mary Tabar. "Watercolor Strip Quilt". This lovely quilt is made from only three floral fabrics. Plus one border fabric. Students designed there own version of these strip stratas with great results!
See photos here...
On August 9th and 10th Internationally known art quilter and lecturer Esterita Austin (on the left) joined us for a Friday Workshop "Sheer Faces" and for our quarterly meeting where she gave her presentation "Cassic Rock"
See photos here...


On Friday, June 7th we welcomed Singer Featherweight restorer
, repair person, and collector Lloyd Askew who gave us a Featherweight Clinic where we learned the history and maintenance of these classic little workshorse machines.
See photos here...
San Diego quilt artist Linda Anderson joined us on May 18th for a presentation and trunk show. Her painted quilts are superb and she jas a most interesting story.
See photos here...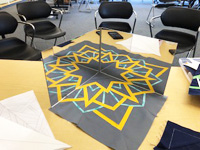 On Saturday April 6 modern quilter Mel Beach taught her "Modern Mandalas".
See photos here...
March 8 and 9 award-winning Australian quilt artist, teacher and world traveler Jenny Bowker joined us for a special 2 day workshop sharing her "Shimmering Triangles" and for our Quarterly Meeting. See photos here...
Saturday, February 2 our workshop with SoCal fiber artist, quiltmaker, surface designer Libby Williamson brought a fresg take to "Paint-Stitch-Collage-Magic". See photos here...
Saturday, January 12th we met for our annual Sew-in bringing our own projects for a social day.
See photos here...
Saturday, December 8th Luann Jaffe welcomed us to her home for the annual WQ Holiday Tea. See photos here...
Saturday, November 10th was the annual WQ Philanthropy Day "Giving For Thanks-giving". Kid's quilts, receiving blankets, baby hats all headed to local charities. See photos here...

On Friday, October 12 Jenny Lyon presented her
workshop "Intoduction to Free Motion Quilting". Our own Luann Jaffe was the first to sign her new book! See photos here...
August 16-18th WQ enjoyed a wonderful 3 day visit from iconic art quilter Velda Newman. In her 2 day workshop students learned to create texture and form using machine techniques and alternative mediums such and paint, ink and colored pencil. At our Saturday meeting we enjoyed a presentation of her work and a couple of her enormous works in person! See photos here...
June 30th we enjoyed Sandra Bruce's "Material Matrix" workshop. Her work involves using a gridded photograph and interpreting each 2-inch square into fabric, using piecing to achieve the effect. See photos here...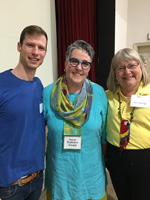 Friday and Saturday we welcomed quilt artist, teacher and host of Quilting Arts TV on PBS Susan Brubaker Knapp for a thread sketching workshop and her presentation at our Saturday meeting "The Artist in You" See photos here...