Programs
The Next Westside Quilters' General Meeting
Saturday, May 12, 2018
9:30 Social Time and Demo
10:00 Meeting and Program
St. John's Presbyterian Church Fellowship Hall
11000 National Blvd. Los Angeles, CA 90064
Click here for map and directions.
Guests are welcome at our Quraterly Meetings for a $10:00 fee.

Showcase Speakers:
The WQ Programs Co-Chairs will present a Keynote preview of whats coming up through 2018-2019
Saturday Demo: Perla Rothenberg will show a crochet edge to embellish baby blankets.

Our Featured Speaker
"Textile Traveler"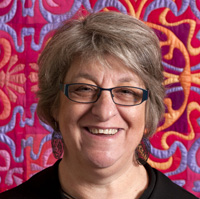 Internationally known Australian art quilter, teacher, author LisaWalton started with traditional quilt techniques over 25 years ago, but she says "I quickly developed the urge to break the rules". She has a fascination with dyeing and surface design and now concentrates on more "serendipitous and experimental pieces". "I have a passion for sharing my knowledge and teaching", she says.
In 2010 she was awarded the Jewel Pearce Patterson Scholarship for Teachers by the International Quilt Association in Houston. In 2013 C&T Published her first book Beautiful Building Block Quilts and in 2014 and 2015 self-published two subsequent eBooks. Lisa is currently the president of Studio Art Quilt Associates - SAQA.com - an international non-profit organization dedicated to promoting the art quilt and the artists who create them.

Her other obsessions for food and travel have opened other doors and now she travels all over the world teaching and leading textile and food tours.
Her hand dyed and painted fabrics are available for sale online store Dyed and Gone to Heaven accessed from her website. Lisa Lives in Sydney, Australia with her
husband, Peter.
On the day before the meeting on May 11 Lisa will present us a workshop "Stamp, Paint, Stitch". See the Calendar Page for more information.